Feature:
Falconeyes Pockelite pocket lamp F7 is a RGB small fill light with built-in battery, which uses an integrated aluminium alloy fuselage.

Maximum power is 12W, illumination is 4000lux with the distance of 0.3m and CRI is 97. The adjustable range of color temperature is 2500-9000K.

There is 0-100 level dimming

Built-in multiple scenario mode applications, including police cars, fire engines, ambulances, lightning,HSI slow rotation, HS fast rotation, TV screen and candlelight.

With 1 inch OLED display, Type-C standard USB charging interface, supporting QC3.0 fast charging, the brightest lasting time is about 2 hours.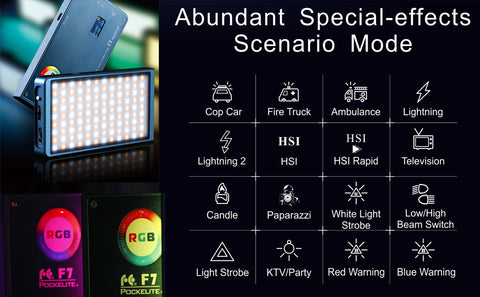 Decription:
Part Number:F7 
LEDs: 96pcs x 0.5W RGB
           54pcs x 0.5W White
           54pcs x 0.5W Yellow
Color Temperature:2500K-9000K
Color Control:0-100% Stepless Dimming
Output power:50W
Operating Voltage:5-15V2A
Beam Angle:110°
Package:Yes
LUX
2500K: 0.3M 4060 / 0.5M 1250 / 1M 319 / 2M 85.7
5500K: 0.3M 3730 / 0.5M 1180 / 1M 295 / 2M 78.8
Dimension(mm)156x 80 x 15mm
CRI:2500K:97 5500K:92 9000K:97
Weight:300g
Battery Capacity:7.4V/3000mAh
Packing list
1* Falconeyes RGB f7
1* Type-c charging cable
1* Cold shoe
1* Universal magic hand
1* Manual
1* Bag
1* Honeycomb and Soft Frame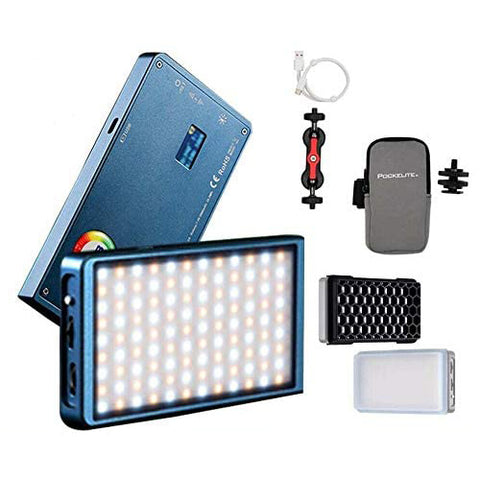 Super bright light with a PROFESSIONAL feel!
The Falconeyes F7 RGB light exceeded my expectations in pretty much every way possible. I have owned lots of these little lights over the years but this one is the BEST one by far! It isn't only superior in brightness but in functionality and finish as well. It has an aluminum finish that feels great and rugged in hand that took me by surprise of how premium it felt! I work primarily as a filmmaker and videographer and this light fits right at home within my professional kit. I have found myself using it more than other lights that I own that cost twice and three times as much as this one. I definitely see myself buying more of these in the future. Bottom line is stop debating and buy this, with all of its special features and being able to adjust every lighting parameter within the light easily, its a no-brainer!