1 TRIGGERED 2: Dual transmitters triggered by one receiver which can be used for multiple devices working together.

96 CHANNELS, AUTO SCAN& IR SYNC: In many noisy places, signal may be disordered causing serious problems for sound pick up. CVM-WM300 comes with 96 channel for your free choice. Before recording, you can use the AUTO SCAN and AUTO IR SYNC first.

BUILT-IN RECHARGEABLE BATTERY: With the built-in lithium battery, the standby time of our wireless mic is up to 8 hours; with micro USB interface at the bottom, it is very convenient to charge.

SUPER LONG WORKING DISTANCE: The working distance of COMICA CVM-WM300 wireless micriophone is up to 120meters, 80 meters in barrier area. If audio cuts out during recording, please use AUTO SCAN again to select the best channel.

REAL TIME MONITORING: With audio real-time monitoring at the Receiver end. Adjustable RF signal strength, Switchable Mono/Stereo Output modes. CVM-WM300 wireless lavalier microphone is made of Zinc Alloy, which has more powerful shielding.
NOTE:
Use the auto-scan function in priority to scan the best channels.
If there is a break-point or interference , please use the auto-scan function again to change the channel. The optimal channel is different in different environments.
BEFORE YOU GET AN ADDITIONAL HANDHELD MICROPHONE/ WIRELESS MICROPHONE TRANSMITTER, PLEASE NOTE THAT VERSION 3.0.4 IS NOT COMPATIBLE WITH VERSION 1.0
The biggest difference between the The Comica CMV-WM300 wireless lavalier microphone and the CVM-WM200 is the material. The Comica CMV-WM300 wireless lavalier microphone is made of zinc alloy and has strong shielding properties, which can provide you with high quality sound. Of course, in terms of functions, the Comica WM300 is more powerful. The Comica WM300 is powered by a lithium battery and has a long battery life without the need to replace the battery. Compared with The Comica WM200 wireless lavalier microphone, the Comica CMV-WM300 has greatly improved in sound quality, materials and functions.
Can my receiver receive signals from third-party microphones?
The receiver of our products can only be synchronized with the transmitter of its supporting products.
What should I do if the current is loud during recording?
If it is a microphone with one for two, we recommend that you exchange the cable to test whether it is a problem with the microphone cable.
COMICA CVM-WM300 Professional Wireless Lavalier Microphone-Give You The Best Broadcasting Experience!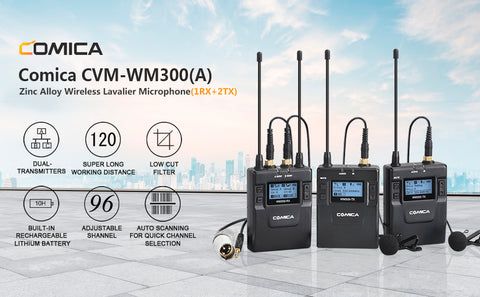 Specifications:
Battery Polymer Lithium Battery: 3.7V 2000mAh

Endurance time: 10H

Transmitting Power : 10dbm/15dbm

Receiving Power: -95dBm

Output Socket: 3.5mm

Dimension: 84 x 63.5 x 23mm

Group A carrier frequency 520.000MHz ~ 548.500MHz

Group B carrier frequency 550.000MHz ~ 578.500MHz
Package Included
1* Receiver (RX)
2* Lavalier Transmitter (TX)
1* Portable Box
1* User Manual
2* Wind Muff
3* Belt Clip
1* Hot-Shoe Mount
1* Receiver (RX)
2* 3.5mm Mic Audio Input Cable
2* Micro USB Charging Cable
1* 3.5mm-XLR Audio Output Cable
2* Micro USB Charging Cable