96-CHANNEL: One transmitter triggered by one receiver which can be used for multiple devices working together, with auto-scanning for quick channel selection to A/B group.

REAL-TIME MONITORING: With lattice LCD display, HD display dynamic volume test bar and transmitter power, real-time monitoring of volume and power.Different frequency channels each with adjustable independent 16 Levels volume controls.

LCF Low Cut Filtering Mode: Used in a noisy environment for audio recording, it can cut off the low-frequency part for pure and clear output.Dual channel selection, you can choose mono or stereo switchable output modes.

LONG WORKING DISTANCE: Working distance up to 394 feet (in open area, up to 263 feet in Barrier Area). By adopting UHF technology, it can realize smooth recording without staccato.

ADJUSTABLE RF SIGNAL STRENGTH: Switching to a low strength mode when the wireless lavalier microphone is within 197 feet helps reduce power consumption and extend standby time. When it's working distance is greater than 197 feet, you can choose high strength mode to improve audio quality.
COMICA CVM-WM200 Professional Wireless Lavalier Microphone-Give You The Best Broadcasting Experience!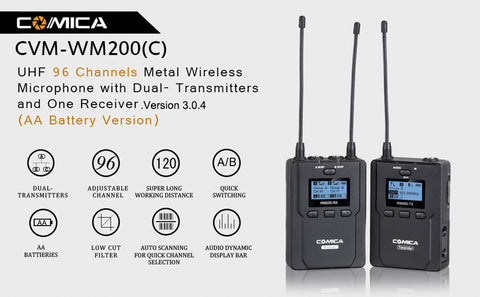 COMICA CVM-WM200 is a full matal wireless microphone with dual-transmitter triggered by one receiver, it utilizing UHF wireless FM technology and LED high-resolution lattice screen: 96 channels in total, 16-level adjustable volume, and integrated into LCF, Auto-scanning, Auto IR Channel-match, stereo / mono switchable audio mode, RF signal strength adjustment, MIC/LINE IN input dual selection, power monitoring at receiver end, sound pickup dynamic display, backlight adjustment and other functions, at the same time with strong shielding anti-noise performance, it's a high-quality microphone to broadcasting level.
BEFORE YOU GET AN ADDITIONAL HANDHELD MICROPHONE/ WIRELESS MICROPHONE TRANSMITTER, PLEASE NOTE THAT VERSION 3.0.4 IS NOT COMPATIBLE WITH VERSION 1.0
Specifications:
Group A carrier frequency 520.000MHz ~ 548.500MHz

Group B carrier frequency 550.000MHz ~ 578.500MHz

Signal / Noise: >65dB

Antenna: 1/4 Wavelength Wire Antenna

Transmitting Power : 10dbm/15dbm

Receiving Power: -95dBm

Battery:Two AA Batteries (Not Included)

Output Socket: 3.5mm
Package Included
1* Receiver (RX)
2* Transmitter (TX)
1* Portable Box
2* Wind Muff
2* 3.5mm Mic Audio Input Cable
1* 3.5mm-XLR Audio Output Cable
2* Belt Clip
1* Manual Guide