Due to increased demand, we temporarily have reduced product selection available for delivery to your region. We are working to improve selection availability as soon as possible.
AUDIO AND VIDEO: Combine Audio and Video, Take your smartphone video to the next level and provide you a Better Shooting Experience; Made for avid smartphone photographers ,filmmakers ,journalists ,sporters and travelers.

PROFESSIONAL MIC: The cardioid microphone with a professional shock mount is super shielded and anti-interference.

UNIVERSAL DESIGN AND SEVURITY: By twisting screw, can freely adjust the clip to hold various size device as need. It fits smartphones from 54MM to 95MM wide such as Iphone 6/6s/6plus/7/7plus/8/8plus/X, Samsung, Huawei and more.

1/4 EXTERANL PORT AND HOTSHOE MOUNT: Top 1/4 External Port and Hot Shoe Mount for Tripod and Mounting Video Microphones, Best Smartphone Video Rig for Phone Videomakers. CNC processing, solid and durable.

NOTICE: This microphone supports all smartphones that come with 3.5mm audio input jack. Iphone 7 and above versions need to use original 3.5mm-lightning adapter. The adapter is not included in our package.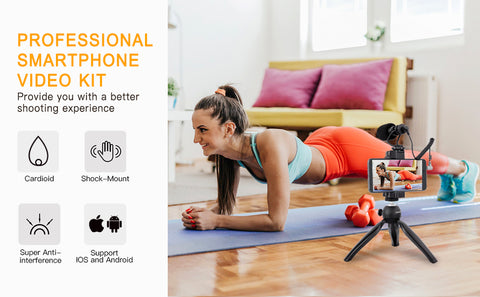 Things you need to pay attention to!
1.During use, if you want to adjust the recording direction, please do not rotate the tripod directly, please press the round button to adjust the angle. Multiple direct rotations can cause the tripod to loosen.
2.Please make sure the black audio jack plug into the microphone and the gray audio jack plug into the phone.
3..Iphone 7 and above versions need to use original 3.5mm-lightning adapter.(Not included in our packaging )
4.To avoid any interference, please make sure WIFI on your phone is set to off, and the best condition is in flight mode.
5.To listen to your recording, please UNPLUG the mic from your smartphone or any other compatible device and press "Play".
Comica CVM-VM10-K2 Professional Mic Kit
Multi-function Smartphone Video Microphone Rig
Thanks for purchasing Comica Multi-functional Smartphone Video Kit, it's designed in many different combinations for your versatile use, which can make your shooting more professional.
Main Features:
Compatible with both IOS and Android System;

Exquisite Smartphone Clamp, Easy to Install;

Extensible with Flexible Combination;

Fit for External Accessories like Microphones, LED lights, etc;

All Metal Material with CNC Processing, Solid and Durable;
Specifications:
Polar Pattern:Cardioid

Frequency Range:100Hz~20kHz

Sensitivity:-33dB ±2dB

Signal/Noise:>75dB

Maximum SPL:>105dB

Operating Voltage:1.0V~10V
Package Included
1* Portable Case
1* Tripod
1* Video microphone
1* phone clamp
1* Wind Muff
1* 3.5mm TRS-TRRS Cable adapter