[96-CHANNEL] Dual wireless transmitters triggered by one receiver which can be used for multiple devices working together, with auto scanning for quick channel selection to A/B group.Group A Wireless Frequency:520.000MHz-548.500MHz. Group B Wireless Frequency:550.000MHz-578.500MHz.

[REAL-TIME MONITORING] COMICA wireless lavalier microphone is equipped with lattice LCD display, HD display dynamic volume test bar and transmitter power, real-time monitoring of volume and power.The receiver can see the transmitter's volume bar display.

[MIC/LINE IN MODE SWITCH] You could use the two Clip-on Lavalier Microphone in different ways, such as one lapel mic is responsible for sound pickup, another lavalier mic is responsible for the background music, so that the receiver can get background music recordings.

[LONG WORKING DISTANCE] The 200A lavalier microphone system operates at working distance up to 394 feet(120 meters) (in open area, up to 263 feet(80 meters) in Barrier Area). By adopting UHF technology, it can realize smooth recording without staccato.

[ADJUSTABLE RF SIGNAL STRENGTH] The CVM-WM200 wireless microphone is made of full-metal manufacturing, with excellent shielding. When the working distance is within 197 feet, you can switch to low strength mode, which helps to reduce power consumption for longer standby time. When the working distance is longer than 197 feet, you can choose the high strength mode to improve the audio quality.
Please note:
To avoid signal interference, we recommend that you use the automatic scanning function to select the best A / B channel, which can significantly improve your audio quality.
The best channels are different in different environments.
BEFORE YOU GET AN ADDITIONAL HANDHELD MICROPHONE/ WIRELESS MICROPHONE TRANSMITTER, PLEASE NOTE THAT VERSION 3.0.4 IS NOT COMPATIBLE WITH VERSION 1.0.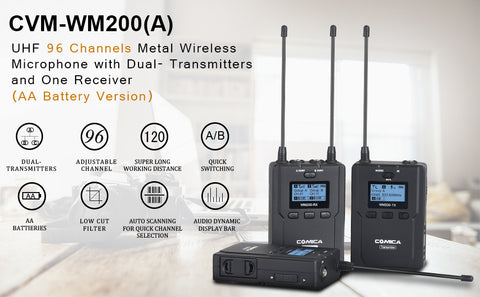 COMICA CVM-WM200 Professional Wireless Lavalier Microphone-Give You The Best Broadcasting Experience!
Key Features:
Dual-transmitter triggered by one receiver,A/B Group quick selection

Full Metal Manufacturing

16-level adjustable volume at receiver end

Auto-scanning for Channel Selection

Low-cut Filtering Mode

Multiple Devices Working Together

Manual or Auto IR Sync

Real-time Monitoring

RF Signal Strength Adjustment

MIC/LINE IN Input Dual Selection

Sound Pickup Dynamic Display, Backlight Adjustment

Mono/Stereo Switchable Output Modes

Low-consumption

LCD Screen (shows the channel number and the battery level)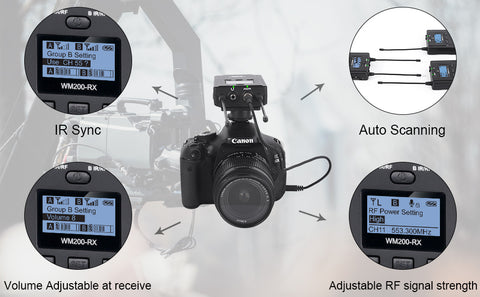 The advantage of 200A microphone system:
It can be powered by AA rechargeable battery. Lightweight and easy to carry.
Compared to a microphone system with a built-in battery, the 200A mic system avoids shortening battery life due to long-term use of the device.
It is a headache for you to charge your device frequently because of its short battery life.
Specifications:
Group A carrier frequency 520.000MHz ~ 548.500MHz

Group B carrier frequency 550.000MHz ~ 578.500MHz

Signal / Noise: >65dB

Antenna: 1/4 Wavelength Wire Antenna

Transmitting Power : 10dbm/15dbm

Receiving Power: -95dBm

Battery:Two AA Batteries (Not Included)

Output Socket: 3.5mm
Package Included
1* Receiver (RX)
1* Transmitter (TX)
1* Portable Box
2* Wind Muff
1* Hot-Shoe Mount
2* 3.5mm Mic Audio Input Cable
1* 3.5mm-XLR Audio Output Cable
1* 3.5mm to 3.5mm Audio Output Cable
3* Belt Clip
1* Manual Guide